The FM Magazine enLighten giveaway winner is....
Released: 12 January, 2013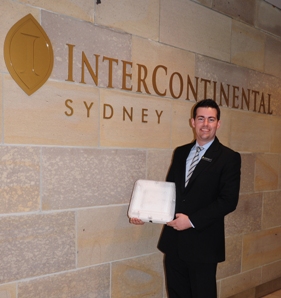 Matthew Willox, Assistant Chief Engineer, Intercontinental Hotel Sydney.
The Sydney hotel is a NSW Government Energy Saver business program partner and has recently completed a front of house lighting upgrade with LED downlights installed in the arcade and corridor areas, 50W halogen lamps replaced with 35W halogen in guest rooms and de-lamping of twin fluorescent lamps in some back of house areas. Matthew and the team, led by Director of Engineering, Andy Goonesekera, are interested in further upgrades of car park, staff locker room, back of house corridors and interior office lighting.
Matthew & Andy have chosen to run a trial of the 10 chip ceiling mount standard Chamaeleon lights in back of house service corridors and staff locker room areas, which are currently lit by single 36W fluorescent tube lighting. At an average consumption of 9.2w (based on 70% standby usage and 30% occupancy) the Chamaeleon offers an attractive opportunity for energy savings.
The issues for car park lighting that the hotel face include providing lighting ambiance for staff and guests, ensuring good visibility in tight areas and security, The hotel runs multiple security cameras in the car park area and requires sufficient light to provide good vision for the cameras. With an inbuilt microwave sensor the Chamaeleon assists with car park security by visibly switching to an increased light output on detection of occupancy or movement,This will assist security staff when reviewing security camera footage.
The Intercontinental Hotel Sydney has a strong track record of being technology pioneers, having been the first hotel in Australia to install electronic locks , pay tv and compact fluorescent lighting in the late 1980s & early 90s. The hotel has also recently replaced its chillers, which alone has resulted in an 18% drop in energy usage across the whole site.
The Hotel engineering team has registered as an Accredited Certificate Provider (ACP) for the NSW Energy Savers Scheme and will benefit from the full rebate available through the sale of the Energy Savings Certificates generated from the lighting and chiller upgrades.
Keep up the good work!
We look forward to working with Andy and Matthew to conduct the trial and look to further product rollouts across the hotel's back of house areas.
About the competition
enLighten Australia partnered with FM Magazine to provide its readers with the opportunity to win $1,000 worth of high efficiency LED lights from the expanding enLighten product range.
To enter, FM Magazine subscribers had to answer the following question correctly:
Is enLighten's product range named after:
a) constellations
b) rainforest dwelling creatures, or
c) '80s TV stars?