Short lead time wins APA Networks warehouse job
Released: 13 March, 2015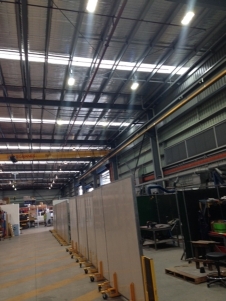 Electrical contractor Barry Stanton of Platinum Electricians Morningside was delighted with the trial results of enLighten's Tauro Blu (Cetus) high bay light, which was recently installed in a Brisbane warehouse for APA Group (Networks).
The short delivery time won the lighting upgrade to replaced failed 400watt metal halide lights. This compared with over 6-8 weeks quoted for delivery of a competitor product, at a higher price.
As the Tauro Blu manufacturer, enLighten carries stock levels in our warehouse and can work closely with clients to streamline the supply chain. In addition the warranty and post sales support on the ground is appreciated by clients.
enLighten assisted in the provision of a lighting design and lensing specification to assure that the light delivery matched the lighting need for the welding area as the existing lighting was poor.
Welders were using temporary floor lighting to compensate the poor lighting. This increased trip hazards and too much lighting.
Barry originally came into contact with enLIghten's Chamaeleon light at a Brisbane Gregory Terrace installation. Platinum Electricians Morningside completed the project for CSR Bradford.
Clients APA were most impressed with the results being documented before even putting the light fittings up. The LED lighting upgrade project return on investment (ROI) analysis prepared by enLighten's Tony Arhanic and the lighting output closed the deal.
APA will be looking to install additional fittings in their workshops as the warranty period on the existing fitting ends. Feedback from APA Networks Facilities Manager, Shelley Nicol, was that the welding team are very happy with the end result. There will be no more temporary lights to carry out precision welding.