Project win - Harbourside Darling Harbour car park
Released: 01 August, 2013

1 Aug, 2013 - Enlighten Australia has recently won a commercial tender to secure its biggest single property installation & supply contract for a Chamaeleon LED light upgrade in the Sydney Harbour Foreshore Authority (SHFA) owned Harbourside Car Park.
The Harbourside Car Park, managed by Wilson Parking, is an open multi story car park in Sydney's Darling Harbour precinct, overlooking the light rail, Harbourside Shopping Centre  and Sydney Convention Centre. The car park is not part of the scheduled Convention & Exhibition Centre site redevelopment, won by Lend Lease.
The project scope incorporates installing 1100 Chamaeleon LED lights, which will replace existing single and twin T8 fluorescent tube car park lighting that has been operating 24 hours a day without controls.
Enlighten worked closely with the team at SHFA to explore a variety of light outputs to meet their specific lighting requirements.
"At the end of a thorough technical due diligence process, we are delighted to be able to offer and deliver a tailored solution to the Sydney Harbour Foreshore Authority" said CEO, Steve Cahill.
Enlighten will also be installing radar sensors with RF controls into the Chamaeleon lights in the car park driveway areas.
The radar sensor has the ability to accurately detect moving objects over long distances. Detecting car movement is important to enable enlighten's Chamaeleon light to be switched up to full level from the default standby level over long car park driveways. To do this a radar sensor is used to differentiate between car and other movement within the space. Once car movement is detected, the lights over the nominated driveway areas are triggered via an RF signal to ensure drivers have good visibility well ahead of the vehicle.
Installation is due to be completed in December 2014.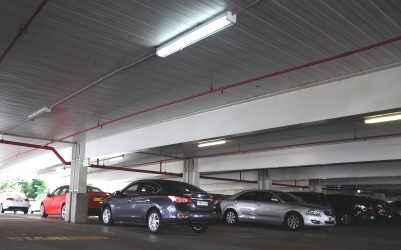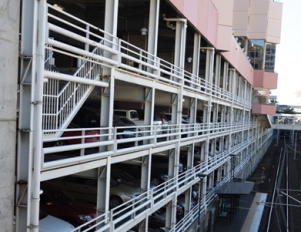 From left: Existing fluorescent tube lighting -including some failed lights, external view from Darling Harbour