NSW Business Leader Award win for enLighten CEO Steve Cahill
Released: 29 November, 2015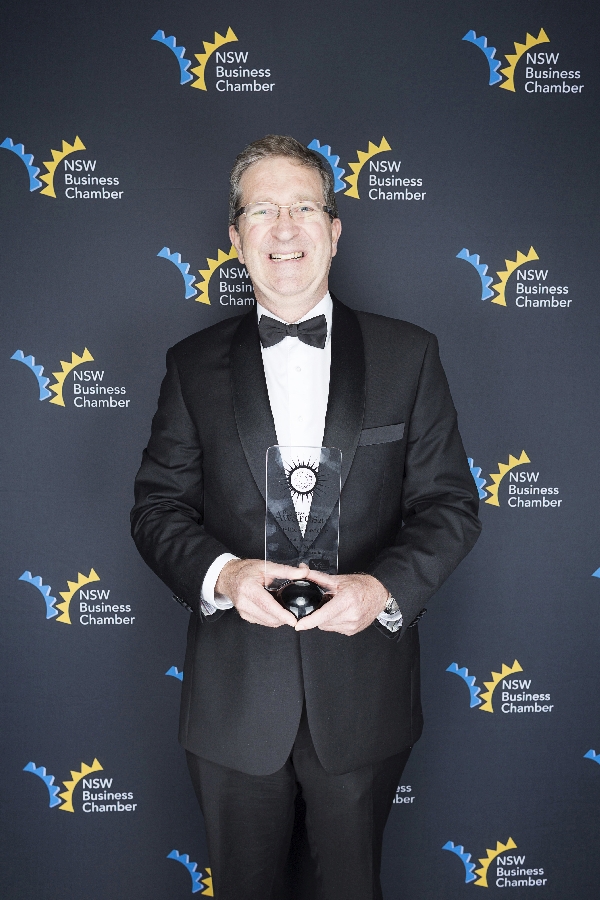 The Business Leader award win recognises the pioneering role played by enLighten Australia's Steve Cahill in identifying energy efficiency opportunities in long lit, low use areas such as fire stairs, car parks and corridors.
Steve was previously awarded Sydney North Eastern Regional Business Leader in September 2015 & was competing against 14 finalists across the state at a gala dinner of over 1000 business representatives held in Sydney's Darling Harbour 's Dockside Pavilion last Friday night.
Steve Cahill is co-founder and CEO of Artarmon based enLighten Australia which designs, manufactures, supplies and installs a range of high efficiency LED lights and smart controls.
enLighten's innovative products have delivered over 1,000 LED lighting retrofits for areas that had seen no technology changes from the traditional fluorescent tube lighting for 40 years. As a former Regional Director of Engineering for a commercial property management company, Steve was able to bring vital end user input into the luminaire design process.
After 2 years of R&D and commercial trials, enLighten launched its patented Chamaeleon light which changed the way that building and strata managers provide emergency lighting.
"Our achievement as a business has been to redefine the role of lighting for people & not spaces and to deliver up to 93% in energy savings for our clients, which include commercial building owners and residential strata owner's corporations" comments Steve.
Steve reflects on the win. "Winning this award is welcome recognition for the risk I took in developing both a new product and business model and the kudos will be shared with my staff, who have contributed to this success."
The future for the business is very positive. "We have been profitable for the past 3 years, are investing in developing new products, employing new staff and growing market share in a very dynamic market." reports Steve.
enLighten's Artarmon head office houses the R&D and testing workshops, warehouse & administration staff. The enLighten product range is available nationally through all major electrical wholesalers.
The NSW Business Chamber Business Leader award win is the first personal award for Steve. Past award recognition for the company include the 2011 NSW Government's Green Globe Award, the 2012 National Cleantech Open Award (rebranded Australian Technologies Competition) and 2012 NSW finalist in the Telstra Business Awards. Product award wins include the NSW Illuminating Engineers Society (IES) Luminaire Design Award of Excellence for Chamaeleon III in 2015 and High Commendation for the Tauro Blu low / high bay LED luminaire in 2012.