More government rebates on offer in NSW for upgrading to lights with sensors
Released: 18 April, 2016

May, 2016
Last month's Energy Savings Scheme's Rule change allows for an increase of up to 3 times the discount factor for lighting controls for commercial lighting upgrades in NSW. Car parks, fire stairs and corridors are the winners in the recent rule change.
The former cap of 30% has now been replaced by a range depending on building class types & installation areas. 85% discount factors are now accepted for fire stair applications where occupancy sensors are integrated into light fittings such as enLighten's Chamaeleon range & the Vico LED batten.
How many more ESCs can I get for my lighting upgrade project?
Data provided by Accredited Certificate Provider (ACP) Energy Conservation for a commercial office client in Sydney revealed that for a car park & fire stair replacement of single and twin T8 36W fluorescent batten & single T5 fluorescent battens with standard & emergency Chamaeleon III lights, the volume of ESCs able to be claimed with the new controls calculation factors rose from 684 to 845. A 19% improvement.
Based on a market rate of $21 net per ESC, that represents an additional $2,268 in rebate funding.
enLighten has prepared a reference table with assistance from Energy Conservation that outlines the percentage improvement per light & lighting retrofit across our IPART approved product range. Contact Us for further details on the opportunities
What brought about the changes?

enLighten Australia has engaged with the Energy Savings Scheme (ESS) policy team at the NSW Office of Environment & Heritage re how best to reflect the energy savings potential of LED luminaires with integrated occupancy controls in the commercial lighting formula used to generate Energy Savings Certificates (ESCs)
The engagement objectives were to re-establish some standard lighting control discount factors to account for reduction in lighting energy use when lights with integrated occupancy sensors replaced permanently on lighting in a variety of building classes & areas. These discount factors replace the former "Multi mode lighting" standard calculation factors that were released & then repealed by Scheme Administrators IPART.
enLighten response
CEO Steve Cahill welcomes the move. "This is a win for common sense. The rebates able to be claimed will now better reflect the real energy savings delivered via occupancy sensors."
Steve also advises lighting upgrade customer to be discerning when assessing proposals and to consider the total operating costs over the 10 years rather than the upfront cost & rebate value.
"Our range of Chamaeleon lights deliver industry leading energy savings of up to 93% as a retrofit of traditional fluorescent lighting. The potential government rebate is a benefit, but is not our primary selling focus. Our competitive project paybacks focus on the low maintenance design features such as externally accessible battery drawer & self test for emergency versions & smart connect base for simple removal of the light without needing to cut mains power. " comments Steve.
"There is currently an army of rebate sellers aggressively entering the market in NSW & Victoria. We highlight to customers the Total Cost of Ownership over 10 years as the key investment decision. If you factor in product replacement costs for lower cost LED luminaire options & call outs for product replacement over the 10 year lighting retrofit, it becomes a completely different story. "
Lighting Controls Reference Table
The table below is extracted from the Consolidated 2016 ESS Rule Amendment (P70)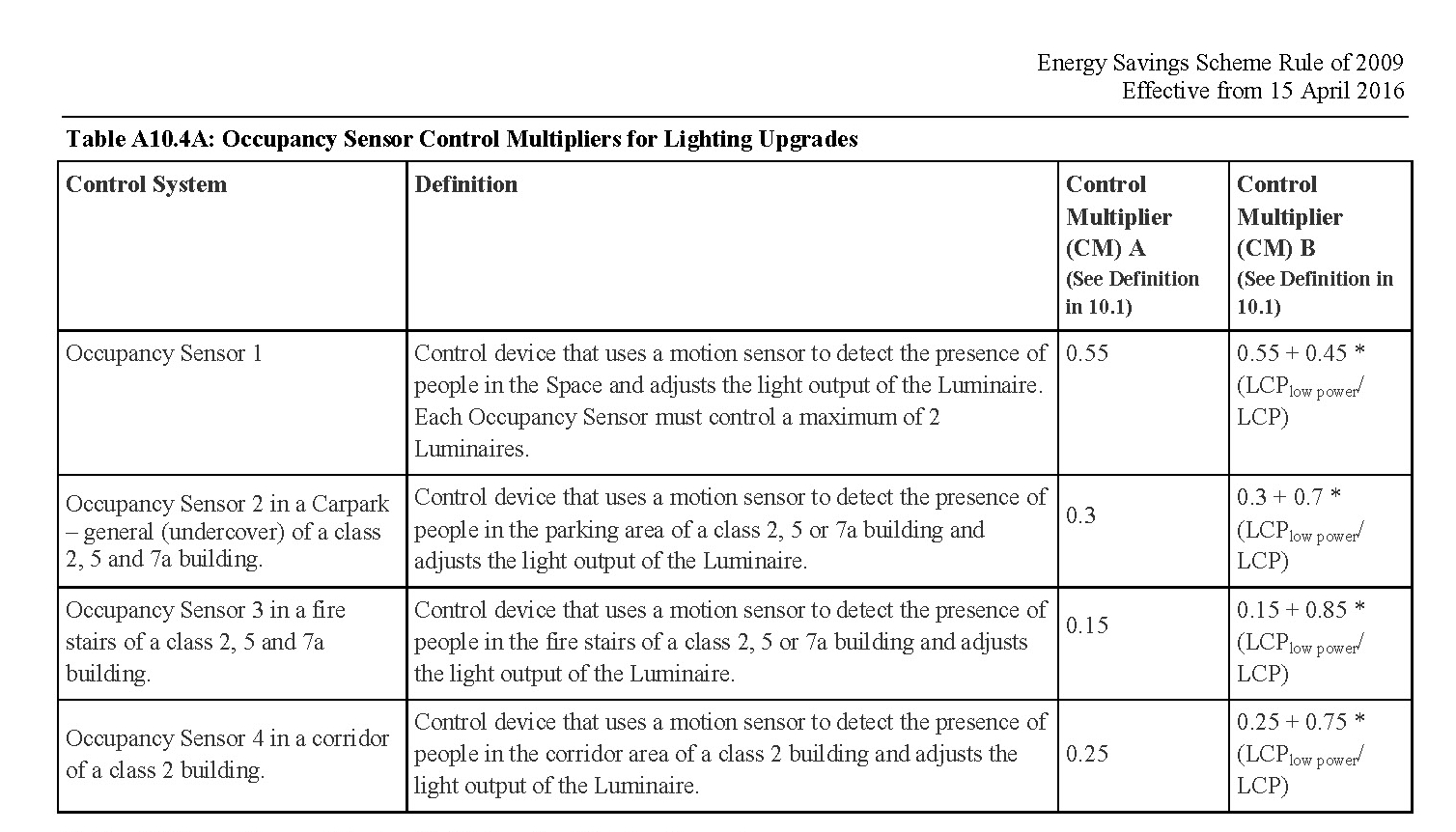 The Energy Savings Scheme (Amendment No.1) Rule 2016 was published in the NSW Government Gazette on 8 April 2016 and will commence on 15 April 2016.