Lensing customisation delivers high bay lighting solution for joinery workshop
Released: 29 May, 2014
Custom made joinery company DJM were in the market for high bay lighting after installing a mezzanine level ceiling above their workshop area at their Western Sydney factory.
Company owner Anthony Teuma went directly to market for lighting solutions and selected Enlighten Australia's Cetus modular high bay light over other globally recognised LED high bay brands.
"We were impressed with the full service delivered by Enlighten's David Bird, who measured the area, interviewed the operations team to understand specific lighting needs of the assembly and machinery operation areas and produced a lighting design for us" said Mr Teuma.
Working within the 450 lux light level requirements at work plane from a 4.6 m suspended mezzanine ceiling height, a variety of 3 module (135W) and 4 module (180W) lights were specified with the following lensing options.
| | | |
| --- | --- | --- |
| Model | Area | Lensing |
| 3 module (135W) | Factory workspace – machinery operation | 120/120/120 |
| 4 module (180W) | Assembly line | 120/60/120/120 |
DJM Estimator/ Purchasing Manager, Ian Bruce, explains the specific lighting need.
"We wanted a higher level of light over the assembly line area where we fit together our customised cabinetry. The 60 degree lens was able to direct the light throw directly to the assembly area, giving us a great result without the regular light "spill" which is standard in traditional high bay lights"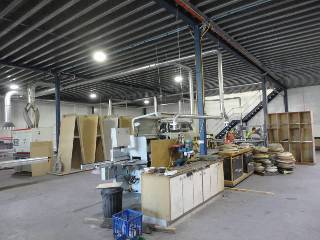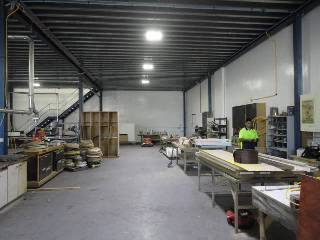 From left: factory workspace & assembly line
Plug & play installation ease & cost savings
"We only needed to have the electrician run cables to the power plugs. Our own staff mounted the Cetus light and power pack to the mezzanine ceiling and plugged in via the quick connect cable."
The factory is seven years old & runs 400W metal halide high bay lighting mounted to the ceiling. The Cetus mix of 135W & 180W luminaires for the mezzanine floor delivers an energy saving of around 66%, compared to the metal halide whilst delivering a uniform quality of light. The factory operates 10 hours per day and has no access to natural light. The extended operating hours and projected 38,000KWh annual energy savings of the Cetus light support the project payback of under 1 year.
Staff feedback
The initial installation showed a blue hue, which transitioned quickly to a cool white within the first day of operation.