High points for Highpoint
Released: 04 March, 2014
Chamaeleon LED lighting upgrades helps Highpoint Shopping Centre lead retail sector in sustainability performance.
The Melbourne suburban shopping centre, located in Maribyrnong, is managed by GPT Property Management and features 520 stores.
Project Scope
Following an extensive business analysis of the energy savings potential of the Chamaeleon LED light by head office, 608 standard and 240 emergency Chamaeleon lights were installed by Construction Electrical Services in fire stairs and back of house corridor areas at Highpoint Shopping Centre.
A further three retail shopping centres across NSW & Victoria are earmarked for a Chamaeleon light rollout, with Wollongong Central currently completing installation.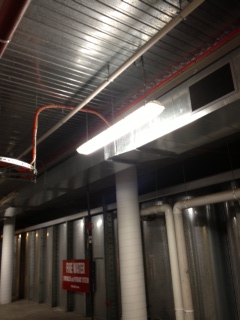 The Chamaeleon lights replaced single and twin 36w T8 fluorescent tubes light fixtures in fire stairs and a mixture of single and twin fixtures in back of house corridors. All incumbent fluorescent lighting operated 24/7 without controls. The energy consumption of the existing fluorescent lighting can be over 100w for emergency models, including ballast.
Fig 1. Existing fluorescent lighting in corridor
Project Results
The projected energy savings of 92% in these areas from the Chamaeleon LED light upgrade is achieved through the light's unique dual circuit design, patented by manufacturer Enlighten Australia. The light operates on a standby mode (7-8W) which changes instantaneously to full light output (31-2W) once movement is detected in the area via a microwave sensor.
The Centre's recent $300 million expansion, completed in March 2013, also featured a number of sustainable design initiatives, including the addition of rainwater tanks with a 480,000-litre capacity, and captured storm water for use in irrigation and air conditioning.
The transparent roof, which has been designed to bring in natural light and fresh air, flows throughout the mall before opening up to a grand new entrance and public space.
Throughout the GPT retail portfolio, energy consumption is down close to 30 per cent. The retail sector in Australia is responsible for 4–5 per cent of carbon emissions, with shopping centres responsible for over half this figure.
Industry movements
The Commonwealth government announced last week that it would has shelved plans to expand mandatory disclosure of energy ratings to retail property and other building types. The Commercial Building Disclosure program had been flagged for expansion to include shopping centres, hotels, schools and hospitals.