Federal budget offers lighting upgrade opportunities for small business
Released: 18 May, 2015
enLighten CEO Steve Cahill welcomes last week's budget announcement for small businesses to immediately write off assets valued up to $20,000.
"We see an exciting opportunity for our customers to utilise this allowance to reduce business expenses.  Energy efficient lighting will deliver ongoing savings via reduced energy and maintenance costs for up to 10 years" said Steve.
With LED lighting upgrades delivering project paybacks of 1-3 years, the lighting assets can have been paid for in energy & maintenance savings by the end of the June 2017 allowance period.
"We would encourage small business customers to consider upgrading their lighting and take advantage of the range of benefits from LED including an improved lighting quality, greater opportunity for lighting control (ie not having to pay for lighting that you don't need) and lower lamp replacement costs" commented Steve.
Quantifying the ongoing benefits – a worked example
A contracting business owns a workshop/ warehouse unit in a commercial strata development. The business upgrades 15 metal halide lights in entrance, dispatch & warehouse areas by switching to LED, achieving energy savings of 67%, assuming 75 hours per week operation.
Upfront spend:             $10,718
Y1 Tax write-off (30% allowance):     $3,215.43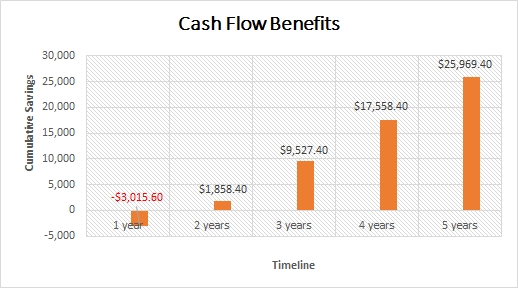 The table above indicates how with ongoing annual energy & maintenance savings of over $4,000, the project is cash flow positive by the end of Year 2 and continues to deliver benefits of up to $26K by the end of year 5. This deduction is allowed per financial year.

The immediate asset write-off is offered to businesses with an annual turnover of less than $2 million.

Additional financial rebates are available for NSW, VIC & SA businesses via their energy efficiency certificate schemes which generate tradeable certificates (ESC, VEET, REES) for commercial lighting upgrades. See here for more information.