Event Report: Ideaction13
Released: 13 May, 2013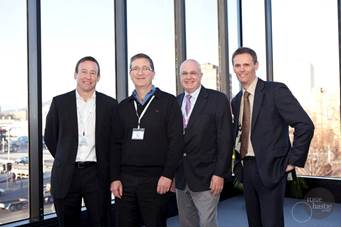 As National Cleantech Open competition winner in 2012, enLighten was delighted to be invited to participate in a breakfast session at the Facility Management Association's National Conference & Exhibition, ideaction13 Hobart, May 27-9.
The 90 minute session titled "Clean technology: at what point do they start to bite?" analysed the environmental, operational & financial benefits that clean technologies can deliver in the built environment. The discussion facilitated by Dr Marc Newson, Australian Government Clean Technologies Supplier Advocate, identified market barriers to clean technologies uptake and provided examples of how to overcome these barriers from the cleantech solutions provider and customer perspectives.
Keynote speaker: Jon McCormick, Managing Director, Brookfield Johnson Controls,
Panellists: Steve Cahill, General Manager, enLighten Australia and Taffy Horwood, Managing Director, SMAC Technologies, an HVAC solutions provider & 2011 Cleantech Open winner.
Key discussion learnings
There is scope for seeking energy efficiency improvements in the built environment through fine tuning of existing building operations & technologies at minimal cost
The direct clean technology solution is attractive to building owners & operators as it offers a measurable & often instantaneous result for a capital expenditure spend
Educating the market is vital to embracing new clean technology.
The Facility Manager plays an important role in the cleantech solutions analysis
About the event
The Facilities Management Association joined as a 2013 Cleantech Open supporting organisation and is working with the Commonwealth Department of Industry & Innovation to promote 2013 competition entries and educate its members on the latest clean technology innovations relevant to the built environment.
The theme for the 2013 ideaction event is 'Building information for facilities management'. The two day program features streamed sessions that focus on Energy, Indoor Environmental Quality, Ratings & Compliance, Risk Management and FM Future Trends.
View the Ideaction13
exhibitors
and
conference website
for further information.