Event report: Energy Efficiency Council national conference 2012
Released: 05 December, 2012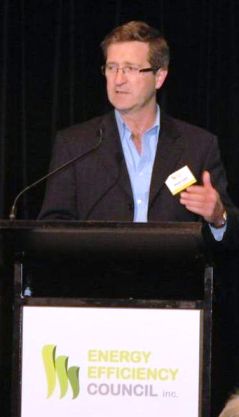 Source: EcoGeneration magazine
In the words of the Energy Efficiency Council President, Simon James, 2012 has been a year of dramatic change in the Australian energy sector. In challenging economic times, rising energy prices and programs like the NSW Energy Saving Scheme and Clean Technology Investment Program have driven millions of dollars of investment in efficiency and cogeneration and a remarkable drop in energy demand.
The debate is changing, with growing recognition that Australia's rising energy bills can be tackled through energy efficiency, reduced peak demand and smarter generation.
In November the Australian Government's Energy White Paper said it simply:
"In the nation's pursuit of energy affordability, climate change mitigation and energy security, energy productivity stands out as perhaps the single most cost-effective way to achieve those goals."
It was against this backdrop that enLighten General Manager, Steve Cahill, participated in an industry and regulator discussion on LED Innovation and Progress on Day 1 of the Energy Efficiency Council's 2012 National Conference.
The key learnings from the discussion are summarised below:
LED advances
Vessi Ivanova, National Key Account Manager, Lighting Solutions at Phillips, one of the largest LED manufacturers globally,
Cost - By 2020 cool white LED chips will be 6 times cheaper compared to 2012 prices
Efficacy - Current high performing LED chips are outputting 100 Lumens/Watt, with up to 130 Lumens/watt LEDs emerging & 150 lumens/watt expected.
Global lighting market potential - The 2009 Philips global lighting market study (updated in 2010) estimated the market share of LED lighting at 12% in 2012 with expectations to grow to 50% by 2015.
Future technology trends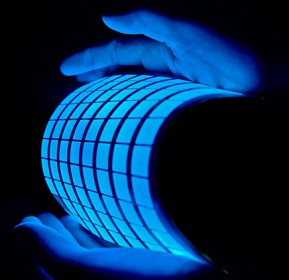 OLEDs (Organic LEDs) a 2mm thick organic material between 2 electrodes on a glass surface.
Benefits
No heat sink is required due to the large surface area
No need for secondary optics
Flexible use including transparencies, easy to embed into fabrics or onto surfaces
Ability to change colour temperature to better simulate daylight
Minimum energy performance standards (MEPS)for LED lighting??
Mel Slade, Director of Lighting and Equipment Energy Efficiency Team at the Commonwealth Department of Climate Change & Energy Efficiency, focused on the lighting challenges for the Australian residential incandescent lamp and halogen downlight replacement markets.
The commonwealth is interested in extending the voluntary industry SSL products quality scheme, administered by the Lighting Council of Australia, to include all LED lighting products on the Australian market. Adoption of an International MEPS is a possibility, The International Energy Agency is running a 4E project covering performance metrics and harmonisation of test procedures for Solid State Lighting.
There is also potential for the National Measurement Institute to work with Australian lighting laboratories to specify what high performance LED Lighting looks like rather than adopt the US Energy Star specification, as New Zealand has done.
Sourcing quality components & the benefits of LED lighting controls
enLighten Australia's Steve Cahill role on the panel was to present from an Original Equipment Manufacturer (OEM) perspective re approach to sourcing quality luminaire components -LED chips, drivers, lenses, heat sinks, diffusers and reflective paper and to outline current and future controls solutions for LED lighting.
Controls solutions key learnings include
LED lighting allows for the ability to tailor light delivery to suit the lighting need of specific areas - light where & when it is needed.
LED lighting energy savings potential further increases with smart controls from 50 to up to 90%
As a first step to lighting design, you need to understand what is located in the space / how is the space constructed / Is daylight available / How people occupy the space
enLighten applies controls solutions according the area usage eg radar for high frequency large carparks, microwave sensors for low occupancy spaces such as fire stairs & back of house corridors and radio frequency controls for industrial & commercial areas for high bay lighting.
Download presentation: {module_literature,i,117020}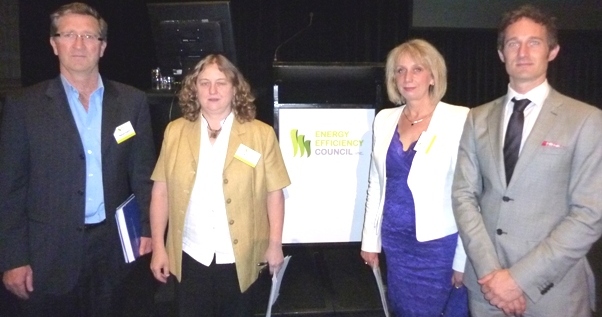 Panel participants. From left: Steve Cahill -enLighten Australia, Mel Slade -Department of Climate Change & Energy Efficiency, Vessi Ivanova - Philips, Rob Murray-Leach - Energy Efficiency Council