enLighten wins 2012 Cleantech Open Award
Released: 05 October, 2012

enLighten Australia has been awarded the 2012 Australian Cleantech Open Award at a gala dinner held in Melbourne on October 4.
The mission of the Cleantech Open, which is now in its second year, is to find, fund and foster companies with big ideas that address today's most urgent energy, environmental, and economic challenges.
Australian Clean Tech Competition summary video (Introduction, finalist profile & interviews, presentation ceremony 11:55 minutes)
This year 103 companies entered the Cleantech Open. 30 semi-finalists were invited to present their cleantech solutions to local and international investors as part of one day investment showcase held yesterday. The seven nominated finalists offered innovative solutions for energy efficiency, waste reduction and green construction as well as showing the greatest global potential based on three key criteria: technology, market and business plan.
Cleantech Supplier Advocate Dr. Marc Newson said the aim of the competition was to find the companies with the greatest potential regardless of whether they were early stage start-ups or more mature companies with operating history.
About enLighten Australia
Having launched in 2008, enLighten has undergone solid growth in Australia through sales of the design patented Chameleon multi-function LED light. This specialty light is designed for low occupancy spaces (fire stairs, car parks & back of house areas) and delivers up to 93% energy savings compared to traditional fluorescent lighting and is fast becoming the new standard in emergency fire stair lighting.
The Chamaeleon was also recognised at the 2011 NSW Green Globe Awards, where it won the Environmental Innovation Award. At the same awards ceremony, enLighten also won the Energy Award for its overall contribution to sustainability through energy saving initiatives and has since continued to go from strength to strength.
Following a successful domestic capital raising in November 2011, enLighten has gone on to expand its product range to include the Cetus high /low bay light range and radio frequency occupancy sensing technology. The company has expanded domestically and is pursuing international market entry from 2014.
The Cleantech win comes at an opportune time in the company's commercial development and enLighten will now go on to represent Australia at the Global Cleantech Competition in the USA in November 2012.
"We are delighted to receive the recognition of the judging panel for both our lighting technology innovation and our business planning," said enLighten General Manager Steve Cahill who was presented the award by Parliamentary Secretary for Industry & Innovation, the Hon Mark Dreyfus, MP whose Department sponsors the competition.
"The rigorous submission process including the business planning workshops was an invaluable exercise for us and we look forward to the opportunity to compete now on an international stage," continued Mr. Cahill.
The award prize covers the US trip cost as well as a tailored business matching service from San Francisco based ANZA Technology Network, a business accelerator that works with Australian, New Zealand, American and Asian entrepreneurs to access new markets and commercialise globally.
View Ministerial media release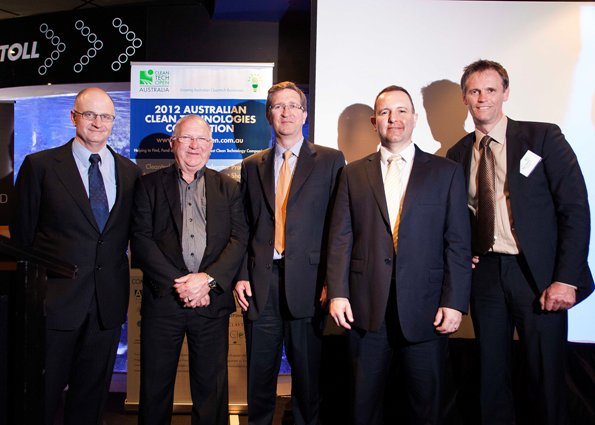 From left: James O'Loughlin MC, Laurence Dummett - Biofiba (runner up), Steve Cahill - enLIghten Australia (winner), Michael Vainer - VR TEK Global (runner up), Dr Marc Newson - judge