enLighten supports NuGreen Solutions in multi Hobart Car Park tender win
Released: 01 December, 2014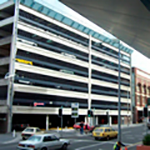 Congratulations to energy project company NuGreen Solutions, who were recently awarded the open tender for by Hobart City Council for the design, supply, installation, testing, commission and maintenance of energy efficient lighting for three Council owned off -street car parks.
The project, valued at over $600K will start in mid January & is expected to be completed by April 2015.
Paul Schlaphoff, NuGreen Solutions Director of National Business comments on the win. "NuGreen are proud to have been awarded the LED upgrade and optimisation project for Hobart City Council, This project is a milestone achievement for NuGreen as this now completes major LED projects in all States And Territories across Australia."
enLighten Australia worked closely with NuGreen Solutions in the tender submission process, supplying technical support including production of lighting designs and assistance with product specification.
"The collaboration with Enlighten has again proved successful . Partnering at the outset has seen the most efficient design , best of breed product and full "turn key" solution be adopted in this D & C RFT Bid." reflects Paul.

An expanded range of enLighten products and controls solutions will feature in the car park lighting retrofits including the new Medici utility light, suitable for car park aisles with light spacing of over 7m.
Technology first – car park entry threshold lighting control
The Tauro Blu LED low bay light will be fitted with a lux sensor to control light output in the underground entry of the Central and Centrepoint car parks. The enLighten designed wireless controls are based on radio frequency (RF) technology and will enable the lights to dim in response to the availability of daylight.
Australian Building Code compliance requires light levels of 800 lux during the day and 160 lux at night . Currently additional lights are installed at car park entries to meet the daytime requirements and are switched off at night.
The benefits of the Cetus light's lux sensor controls are twofold - initial project cost reductions from the removal of the need for additional lights and ongoing energy cost savings due to the light's ability to dim during daylight periods.
Related article:
{module_webapps,13285,i,3741037}