enLighten successfully defends Chamaeleon LED light international design patent
Released: 20 August, 2014
25 August, 2014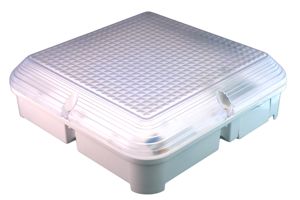 Imported copies of the Chamaeleon LED light have been removed from the Australian market following a successful prosecution by enLighten Australia, owners of the Chamaeleon LED light's  Australian Innovation Patent.
enLighten CEO Steve Cahill reports that the company's patent attorneys have successfully defended it's Australian Innovation Patent No. 2011 100 078 against two local companies.
Steve reflects on the win.  " We are very proud of our IP (intellectual property) and will be active in protecting our Australian innovation from a growing number of copycat products that are being imported into the local lighting market"
"We invested over two years of R&D, in-field testing, customer trials and building manager feedback into the Chamaeleon's unique design, which specifically takes into account compliance with the Australian standards and Building Code requirements"
"Some imported products offering a one size fits all solution are not delivering compliant lighting solutions in many cases"
What's the risk & how should customers protect themselves?
If a company or building owner has infringing products installed in their premises, they may be required to pay compensation or remove the lighting.
Steve Cahill advises that to protect themselves, potential purchasers need to ensure that they are purchasing products that do not infringe any patent.
"We would recommend that clients request confirmation from suppliers that their products do not breach any patent. This written confirmation should be part of the engagement documentation."
About the Chamaeleon™ light
Winner of the 2012 National Cleantech Open Award, which has since been rebranded the Australian Technologies Competition, the Chamaeleon light's innovative design and delivery of up to 93% energy savings for fire stair and car parks, including emergency lighting, were behind its win over 103 other entries.
The commercialisation success for enLIghten since the Chamaeleon light's market entry in 2011 has since grown to over 600 installations, 50,000 product sales and over $5million in annual energy savings for our customers. These milestones were celebrated during the recent 5 year anniversary for enLIghten Australia.
The Chamaeleon was also recognised at the 2011 NSW Green Globe Awards, where it won the Environmental Innovation Award. At the same awards ceremony, enLighten also won the Energy Award for its overall contribution to sustainability through energy saving initiatives.