DC lighting features in iDemand demonstration project
Released: 25 November, 2014
Enlighten Australia was invited by high voltage electricity transmission network operator, TransGrid NSW to collaborate in an innovative project at its Western Sydney site. iDemand is designed to reduce electrical demand on site by up to 50% at peak times.
The iDemand project was launched on November 25th, 2014 after two years of scoping and commissioning work by the team at TransGrid and consultants Worley Parsons. In attendance at the launch were the seven project technology partners, national electricity supply network representatives, academics & researchers.
TransGrid are looking to formalise research agreements with universities and industry training groups, to educate on demand management innovation activities and derive further value from the installation.
DC lighting system specs
enLighten's Steve Cahill was on hand during the site visit to outline the features of the enLighten designed 48V D/C powered LED lighting installation in the workshop area.The existing lighting (250W & 400W Metal Halide and 400W Mercury Vapour) was replaced with 90W 2 module and 135w -3 module Cetus LED hibay lights.
The DC lights were supplied directly from the iDemand lithium polymer battery on site via a converter, see below: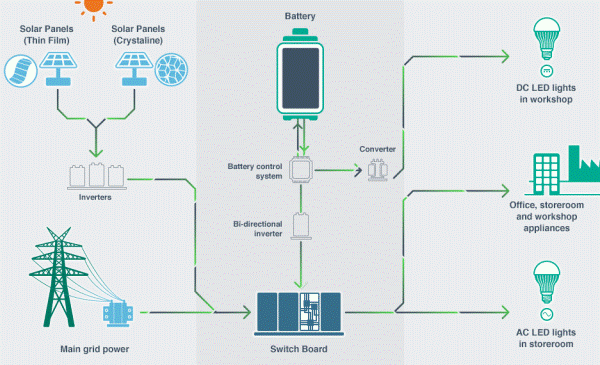 The addition of lighting controls delivered further savings. All 88 lights were fitted with enLighten designed radio frequency controls and photo electric sensors. The RF controls were embedded into each light fitting and supported daylight harvesting by the lights dimming to set points.



Power consumption

(kW)


Pre upgrade

Post upgrade

Warehouse (A/C)


25,3

1-3

Workshop (D/C)


20.2

1-3
Steve reflects on the two year project "It was an exciting opportunity for us to be part of a cutting edge energy demand demonstration project. It is clear that energy storage & supply capabilities are rapidly expanding."
"We commend TransGrid for this pro-active iDemand demonstration project which showcases the best of Australian & international energy technologies"
A web portal has been set up to report live status at http://www.transgrid.com.au/iDemand with historical datasets available for download.
Related articles: {module_webapps,13285,i,4323377}