Chamaeleon emergency lighting installation design - where to start
Released: 27 January, 2014
Emergency Lighting Requirements
Australian Standard AS2203.1-2005 specifies a minimum light level of 0.2 lux at the floor under emergency lighting conditions. The level of light at floor level will be dependent on the light output of the fitting and the mounting height, measured in m from the floor.
How are emergency light fittings assigned classifications?
Emergency light fittings are tested and based on performance, are assigned classifications to number of classes (A to E). Fittings with more than a single light source are generally classified according to axes: C0, C90, C180, C270 as the light distribution is not symmetrical.
The published standard for emergency lighting, AS2293.1, includes Tables 5.1 to 5.5, which list the maximum spacing between emergency light fittings per classification, for a range of mounting heights.
The following table is a summary of Tables 5.1-5.5, according to the Chamaeleon light range classifications. There is no change in classification according to light output or number of LEDs per model, other than the wall or ceiling mount.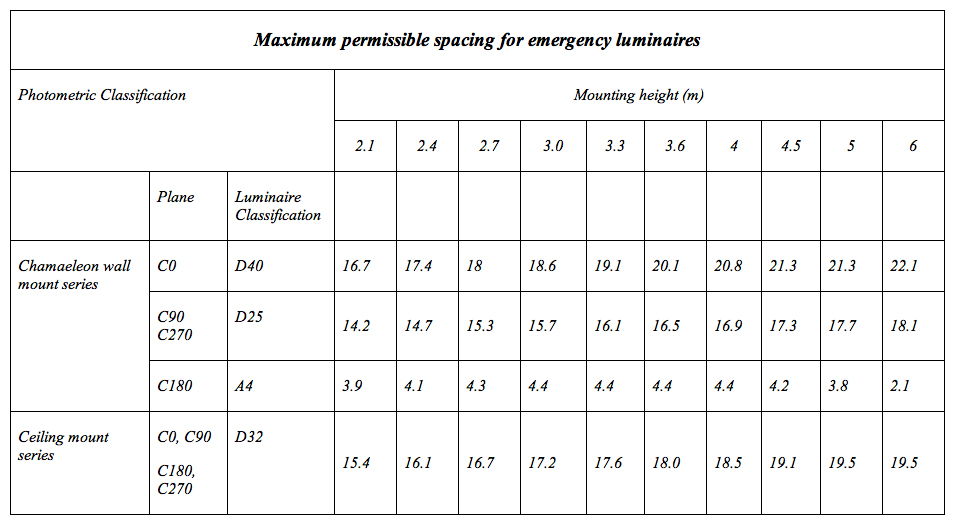 Click to view chart at full size