Celebrating 10 years – and still growing strong
Released: 13 March, 2019
enLighten Australia is celebrating 10 years in business!

In a climate where small business represents 97% of all businesses in Australia, and where 60% of them cease operating within 3 years, I am very proud of achieving this milestone.
Since we first commenced operating at the start of the GFC we have supplied lights into thousands of retail, commercial, industrial and residential strata buildings across Australia. These LED lighting upgrades have saved our customers more than $53 million in electricity costs alone and will continue for many more years to come.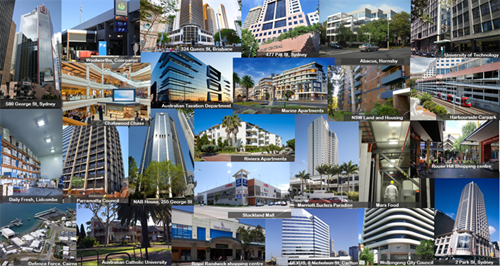 During those early days there was some resistance to our innovations, especially integrating sensors within the lights and dimming them down to a standby light level. Most of our early customers who actively engaged with us to understand the technology and its associated benefits, implemented our technology and these early projects are still operating today! This technology is now widely accepted the concept of controls inbuilt into lights is regarded as normal.The cooperation and support of those wonderful clients in those early days will never be forgotten.
Starting up a business has many challenges as well as highs. Some of our successes include the granting of several patents, launching the Chamaeleon in 2010 followed by the Chamaeleon III in 2014. Winning the NSW Green Globe award in 2011, the Australian Cleantech Open award in 2013, followed by the National Energy Efficiency Innovation award in 2015 and the ies Luminaire Design award in 2016 was testament to the innovation and quality in our products and were humbling for our business and staff to receive.
We have grown our geographical reach and now have sales teams covering the eastern seaboard and an agent in South Australia.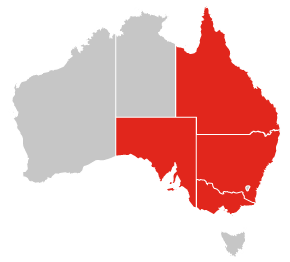 We sell through the electrical wholesale market all around Australia and have strong relationships with the major wholesale brands and large contractors.Over the past 10 years we have also established enduring relationships with some of Australia's largest property holders and managers including Jones Lang LaSalle, AMP Capital, Lend Lease, Cromwell, Colliers and many Government agencies.
We have supplied LED lighting to some amazing projects like the NSW Land and Housing contract where our lights were installed in 255 buildings across NSW. We are proud to have had the opportunity to provide car park lighting for Australia's first 100% LED building in Goulburn St. Sydney. We have also had the pleasure supplying lights into Transgrid iDemand (Australia's first DC High Bays) and the Defense Department Stage 1 - $1.2m high bay project.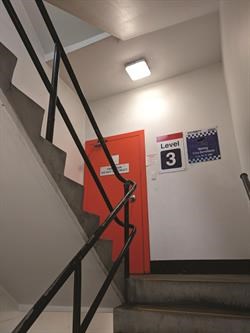 Goulburn St, Fire Stairs
Looking after the environment is something we are passionate about and in addition to providing our customers with energy saving, we have always been heavily involved in the recycling of old fluorescent tubes, batteries and metal fixtures.We have also more recently made changes in our warehouse operations and greater care in the materials chosen. We have moved towards more sustainable packaging by reducing the polystyrene and plastic and using recyclable cardboard wherever possible. Providing sustainable lighting is more than just about energy-saving and recycling and includes the quality of the light fixture and the components to ensure that they operate for many years.This has always been the number one focus for us all and will continue to be going into the future.
With several new product developments on the horizon and continual investment in our business to ensure we better support and engage with our clients, we are very positive about our growth in the next 10 years and our position within the Australian lighting industry.
Thank you to all our clients and the dedicated staff that I've been privileged to work with over the last decade, it has been a fantastic journey and we look forward to providing quality, innovative LED lighting solutions for many years to come.

Steve Cahill
CEO and Co-Founder