Australian Financial Review helps create awareness
Released: 29 June, 2010
An article in the AFR on Tuesday 29th June 2010 highlighted enLighten's efforts in providing low energy lighting solutions for local government and business.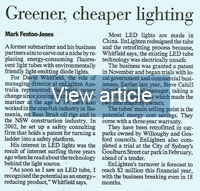 The article referenced Willoughby City Council and Gosford City Council projects that resulted in energy saving of up to 76% from the retrofit of fluorescent lighting with LED lighting. Increasing business and community awareness of energy reduction is important in helping to reduce Australia's green house gas emissions.
Already the article has resulted in an increase in the enquiry rate and several new projects are being assessed by enLighten. This will only add to the 18,450kg of carbon dioxide already saved by lighting retrofit programs undertaken by enLighten.
If you'd like to know more about us, our products or how we can help you save, please contact us!